Reserve your 200 hour Yoga TTC 2024 spot today!
Comfy Sea View Room

Comfy Sea View Room with Private Balcony
Sea View Room
$1600 $1,500 USD
Reserve yours now for just $225
Sea View Room with Balcony
$1700 $1,600 USD
Reserve yours now for just $240
Limited time price for bookings made for courses until Dec 2024.
Course price for 2025, is increasing $100 over and above – paid on arrival
Book your slot now by paying just 15% of the course fee as deposit
⚠️ Limited Availability
Dec 2024 – 1 slot
Jan 2025 – 2 slots
Feb 2025 – 3 slots
Apart from the course, other perks include
FREE 1 full body massage
3 nutritious, healthy veg/vegan/gluten-free meals & refreshments daily
Excursions on Sundays
Kirtan/Campfire on Saturdays
Course materials for self-study
Sightseeing Trips
Airport Transfer (One Way)
Rejuvenation Guaranteed!
Pocket-friendly with immense value – See more reasons to train with us
Yoga Alliance certified Yoga Teachers
Serene & Spiritual learning environment
The only Yoga school in Bali in collaboration with the Indonesian Government and the Indian Consulate in Bali
Only a maximum of 14 students per Asana class
10 hours of classes on average, 20% more than any other TTC
Air conditioned Yogashala with a scenic view
Management & Teachers from the World's Yoga Capital – Rishikesh, India
Authentic and Traditional Yoga school in Bali
Yoga is one of the recommended paths to overcome the negative energy of your body and fill yourself with positive vibes. It helps in stimulating the various dimensions of the human body into one segment. Yoga is the amplest way to attain the salubrious health along with the calmness in the mind and soul. Apart from this, it helps in increasing the efficiency of the body organs to delay the sign of aging. However yoga can be done anywhere, whether in the home, studio, ashrams, or in the open environment, but the benefits of yoga multi-fold itself in the tranquil and natural environment. This makes Bali a major hotspot of health and wellness across the world.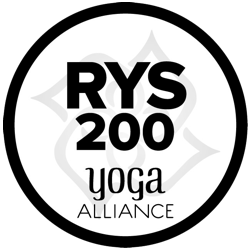 Bali is one of the scenic islands in the majestic land of Indonesia. The peaceful environment, the natural atmosphere, and the divine interventions always attract yoga lovers to start their Yoga Teacher Training in Bali. The yoga teacher training course in Bali opens up the gateway for the brightest career in the yogic field.

To kick start your yogic career 200 hours Yoga TTC in Bali 2024 is always a good option. A large number of Yoga School in Bali is also a reason for increasing the hype of teacher training courses in Bali.
Course Curriculum – 23 Days
Designed on Hatha, Vinyasa, and Ashtanga Yoga Practice. Our Yoga School mixed the concepts of Yoga Philosophy, Yoga Anatomy, Breathing or Pranayama Technique, History of Yoga, Kriyas, Yoga Asana, Shatkarma, and ceremonies like Mantra Chanting, Homa, and Yajna. Regular practice of Theoretical and Practical classes is provided on a regular basis to improve the knowledge of Yoga. The syllabus of Yog Mantra Bali is:-
Pranayama, Chanting, and Meditation
This is one of the crucial parts of our 200 hours yoga TTC. It involves controlling breathing and filling the body with positive vibes and energy.
Asana
Practice of Asana and methodology is the main part of this subject. It eradicates all the defects in the Yoga Asana and renders the proficiency in Yoga Postures.
Yoga Anatomy
Our professionally experienced and trained Yoga teachers help in learning and understanding the Yoga Anatomy.
Shatkarma
It is comprised of Yoga Practicum and Methodology which helps in the sanctification of the body by various Yoga Postures.
Yoga Philosophy
Yoga philosophy includes History, concepts, and philosophy of Yoga.
Syllabus
Ashtanga Yoga
Standing Pose
Hasta Padangusthasana & Pada Hastasana
Utthita Tri Konasana
Parivrtta Tri Konasana
Utthitan Parsva Konasana
Parivrtta Parsva Konasana
Prasarita Padottanasana A, B, C & D
Utthita Parsvottanasana
Utthita Hasta Padangusthasana
Utthita Parsvasahita
Utthita Eka Padasana
Ardhabaddha Padmottanasana
Ardhabaddha Padmottanasana
Virabhadrasana A,B and C.
Primary Asanas
Paschimottanasana A, B and C
Purvottanasana
ArdhaBaddha Padma Paschimottanasana
Tirieng Mukha Eka Pada Paschimottanasana
JanuSirsasana A,B and C
Marichyasana A,B and D
Navasana
Lolasana
BhujaPidasana
Kurmasana
GarbhaPindasana
Kukkutasana
BaddhaKonasana A & B
Konasana A & B
Intermediate Asanas
Salabhasana A & B
Dhanurasana
Ustrasan
Kapotasana A & B
SuptaVajrasana
BakasanaA
Bakasana B Jump
ArdhaMatsyendrasana
Yoga Nidrasana
Tittibhasana
PichaMayurasana
PichaMayurasana
Gomukhasana A & B
Gomukhasana A & B
Advanced A
Kasyapasana
Bhairavasana
UrdhvaKukkatasana A
Galavasana
EkaPadaViparitaDandasna
VipritaSalabhasana
GandhaBherundasana
Hanumanasana
Natrajasana
Raja Kapotasana
Anatomy
Introduction to anatomy
Introduction to a yogic diet
Influence of lifestyle into the anatomy and physiology of the body
Introduction to the skeleton and its importance in Asana practice
Introduction to the muscular system
The function of the musculoskeletal system
Anatomy of lower limbs of the body
Foot
Knee
Hip
Anatomy and physiology of the spine
Anatomy and physiology of upper limbs
Shoulder
Elbow
Wrist
Teaching Methodology and Alignment
Introduction to alignment
Alignment of a posture for a different group of people
Complex anatomical terms are broken down into simple cues and instructions

Posture
How to do
Benefits
Contraindications
Anatomical views
Common mistakes
How to avoid mistakes
Modification for each and every group of people
Adjustments(based on verbal and physical cues)
How to instruct
Assignments
There will be a number of assignments/readings given to you during the course of the yoga teacher training to ensure that you are absorbing the information you are being taught. Topics will vary, and some will be written and some practical according to student needs.
23 Days with Instructions in English
Total Number of Students – 14*
* 14 students in practical Asana classes (Hatha, Vinyasa, Ashtanga, Body Alignment, Yin Yoga, etc.).
You may be in a group of 14 of more, for theory classes only (Yoga Philosophy, Anatomy, Meditation, Ayurveda, etc.)
Overview
200 hours Yoga Teacher Training program or four-week residential yoga course is the foundation or first step towards the yoga teaching career. This program mainly focuses on the correction of Asana and maintaining discipline in life. 200 hours Yoga TTC is known as the foremost path of Yoga. For the beginner or intermediate yoga aspirants, 200 hours is the most recommended yoga teacher training course for everyone to know the concepts of Yoga. This program builds a sense of confidence and class conductive techniques amongst yoga lovers.
200 hours Teacher Training course by Yogmantra Bali
Yogmantra Bali instituted the yoga school in the majestic and naturalistic island of Bali. These in turns lift up the learning and understanding process of Yoga. We at Yog Mantra Bali provide a student-friendly environment for a better yoga learning experience. We are forced to learning the basic concepts of Yoga. All the yoga teacher training courses at Bali are certified by Yoga Alliance, USA. We emphasis on correcting yoga postures, learning yogic concepts in an inartificial environment. Yog Mantra Bali provides the various yogic programs for intermediate and beginner level students.
Discipline Required at our centre
No Alcohol Consumption
Pursue all guidelines and rules of the school
Attend every session of the course for optimal results